The Seven Flags of the New Orleans Tri-Centennial
Abraham Clark

Signer of the Declaration of Independence
ABRAHAM CLARK was born in Elizabethtown, NJ on February 15, 1726 the only child of Thomas Clark, a farmer. He was raised to follow in his father's footsteps, however, because of his slight build and weak fortitude, he was inadequate at the laborious tasks of farming. He turned his attention to surveying, and he conveyed legal advice to landowners on their rights during boundary disputes. Many believed that he did not have a law degree and that he studied law on his own. However, as he gave his advice gratuitously, he was known as "the poor man's counselor". His sharp comments on the pretensions of lawyers won him enemies but also gained him approval from his fellow citizens, and he became a champion for their rights.
Clark's love of study and the generosity of his character rendered him very popular. His opinion was valued, and often sought even beyond Elizabethtown. In 1749, Clark married Sarah Hatfield, who was very enterprising. Sarah ran the family farm and reared their ten children, allowing Clark to enter into public life. He was called to fill various offices, first as a country sheriff and clerk of the assembly, where he gained valuable political experience.
Clark was all for independence, having formed his opinion on the great question very early in the revolution. He was appointed to the committee of public safety and some time after was elected by the provincial congress. Because of his enthusiasm for independence, he was sent to Congress on June 22, 1776, to vote in favor of it. Clark new full well that fortune and individual safety were at stake, however personal considerations did not influence his decision. He voted for the declaration of independence and affixed his name to the document with firm determination to meet the consequences of his noble but dangerous action.
In November 1776 he was elected to the Continental congress, and was continuously re-elected until 1783 with the exception of one year, 1779. Two of Clark's sons were officers in the army during the Revolutionary War. Unfortunately the British captured them, and they were at one point confined to the notorious prison ship, Jersey, where they endured extreme suffering. Clark scrupulously avoided calling the attention of congress to the condition of his sons, as painful as it personally was, but he did make a single exception. One of his sons, a captain of the artillery, had been cast into a dungeon, where he received no food other than that which was forced through a keyhole for him by his fellow prisoners. Clark conveyed these facts to Congress, which immediately directed a course of retaliation against the British Officer. Captain Clark's condition was promptly improved.
Clark was a member of the New Jersey legislature from 1782 until 1787, and while holding that office acquired great influence and was responsible for all the important measures passed during his term of service. Clark attracted the respect and admiration of the community, by his punctuality, his integrity and his perseverance. He was a delegate to the convention that framed the Federal constitution in 1787 and in 1789 was appointed a commissioner to settle the accounts of New Jersey with the United States. Later he became a member of the United States Congress, serving from October 24, 1791.
On the adjournment of congress in June 1794, Clark finally retired from public life. However, he did not live long enough to enjoy even the limited comforts he possessed. On September 15, 1794, Clark suffered sunstroke and was dead within two hours.
Edited Appleton's Cyclopedia American Biography Copyright© 2001 by StanKlos.comTM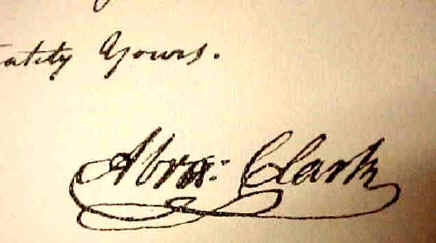 Source: Centennial Book of Signers
From Wikipedia, the free encyclopedia
Abraham Clark (February 15, 1725 – September 15, 1794) was an American politician and Revolutionary War figure. He was delegate for New Jersey to the Continental Congress where he signed the Declaration of Independence and later served in the United States House of Representatives in both the Second and Third United States Congress, from March 4, 1791, until his death in 1794.
Abraham was born in Elizabethtown, New Jersey. His father, Thomas Clark, realized that he had a natural grasp for math so he hired a tutor to teach Clark surveying. While working as a surveyor, he taught himself law and went into practice. He became quite popular and became known as "the poor man's counciler" as he offered to defend poor men when they couldn't afford a lawyer.
Clark married Sarah Hatfield in 1748, with whom he had 10 children. While Hatfield raised the children on their farm, Clark was able to enter politics as a clerk of the Provincial Assembly. Later he became High Sheriff of Essex County and in 1775 was elected to the Provincial Congress. He was a member of the Committee of Public Safety.
Early in 1776, the New Jersey delegation to the Continental Congress was opposed to independence from Great Britain. As the issue heated up, the state convention replaced all their delegates with those favoring the separation. Because Clark was highly vocal on his opinion that the colonies should have their independence, on June 21, 1776, they appointed him, along with John Hart, Francis Hopkinson, Richard Stockton, and John Witherspoon as new delegates. They arrived in Philadelphia on June 28, 1776, and signed the Declaration of Independence in early July.
Two of Clark's sons were officers in the Continental Army. He refused to speak of them in Congress, even when they both were captured, tortured, and beaten. However, there was one instance when Clark did bring them up and that was when one of his sons was put on the prison ship, Jersey, notorious for its brutality. Captain Clark was thrown in a dungeon and given no food execept that which was shoved through a keyhole. Congress was appalled and made a case to the British and his conditions were improved.
Clark remained in the Continental Congress through 1778. New Jersey returned him twice more, from 1780 to 1783 and from 1786 to 1788. Clark retired before the state's Constitutional Convention in 1794. He died from sunstroke at his home.
Clark Township in Union County is named for him, as is Abraham Clark High School in Roselle.
Clark is buried at the Rahway Cemetery in Rahway, New Jersey.

The Congressional Evolution of the United States Henry Middleton
Unauthorized Site: This site and its contents are not affiliated, connected, associated with or authorized by the individual, family, friends, or trademarked entities utilizing any part or the subject's entire name. Any official or affiliated sites that are related to this subject will be hyper linked below upon submission and Evisum, Inc. review.
Copyright© 2000 by Evisum Inc.TM. All rights reserved.
Evisum Inc.TM Privacy Policy